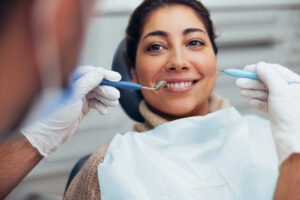 If you have children, you know how easy cavities can form. According to the American Dental Association (ADA), dental sealants can reduce decay by 80%! Dental sealants are one way to help protect your child's teeth. We invite you to meet Dr. Cummins and his friendly, knowledgeable team. Come experience for yourself our relaxed and caring approach. We'll provide an informative consultation at your initial appointment, covering all your concerns and questions you may have about dental sealants.
What is a Dental Sealant?
Even if you maintain excellent oral health, a cavity may occur occasionally. Dr. Cummins and the Cummins Dental Group can help you prevent cavities. Sealants are one of the many fantastic solutions for preventing cavities.
A dental sealant is a minimally-invasive preventative dentistry measure, serving as a barrier to prevent cavities from forming on your teeth. A dental sealant is a tooth-colored plastic resin that coats and seals each tooth. Sealants can protect and strengthen teeth, even where cavities have already formed.
We apply sealants during a painless and straightforward procedure to protect your teeth against cavities. A sealant can help you improve your smile by being long-lasting and matching your natural tooth color.
Sealants Provide Extra Cavity Protection
When you brush your teeth, your toothbrush frequently glides over the tooth grooves, especially on molar chewing surfaces, where decay-causing plaque, bacteria, and acids tend to collect. These grooves might deepen over time. At Cummins Dental Group in Silver Spring, MD, we can apply sealants to the grooves to protect against cavities.
Some additional advantages of sealants:
No drilling or shots are necessary for applying sealants.

Sealants are fast and easy for Dr. Cummins to apply

Installing sealants involves no discomfort.

Sealants are safe, even for children.

Sealants make teeth smoother, and therefore easier to clean.
What is the Dental Sealant Procedure?
Sealant application can take just a few minutes to apply. Dr. Cummins or a Cummins Dental Group team member will:
Clean and dry the tooth or teeth.

Prepare the tooth surface for the sealant by placing a gel on the tooth.

Rinse off the gel and dry the tooth.

Place the liquid plastic sealant within the tooth grooves.

Use a special blue light to harden the sealant material.
What to Expect After the Sealant Application
Although the sealant may feel unusual at first, you should get used to the feeling after some time. You will be able to use your teeth, as usual, to chew food once the sealant hardens.
Dental Sealants are Great for Kids
Children, as we all know, enjoy food and sweets. During their early years, they are prone to cavities. Therefore children are possibly the best candidates for dental sealants.
We can apply sealants before a child's teeth begin to develop cavities. The sooner, the better.
Dental Sealants for Adults
Adults can benefit from tooth sealants. You might benefit most from a sealant if your teeth don't already have considerable decay. Otherwise, fillings might provide a better solution. Dr. Cummins can examine your teeth to see which might benefit from sealants. Sealants work best on teeth with deep grooves for the sealant to settle.
How Long Do Dental Sealants Last?
Like with anything, sealants can wear with time. However, according to some studies, they can last up to a decade. They should last you or your child several years at least.
The Best Dental Sealant Specialists in Silver Spring
Dr. Cummins of Cummins Dental Group is there for your dental needs in Silver Spring. We deliver high-quality care in a professional, friendly, comfortable environment. We'll use the latest technology, adhering to the highest standards in dental care.
Contact us today to schedule an appointment, and we'll show you how sealants can help you improve your dental health. Preventing cavities is one of the many ways we'll help you keep your smile going strong.