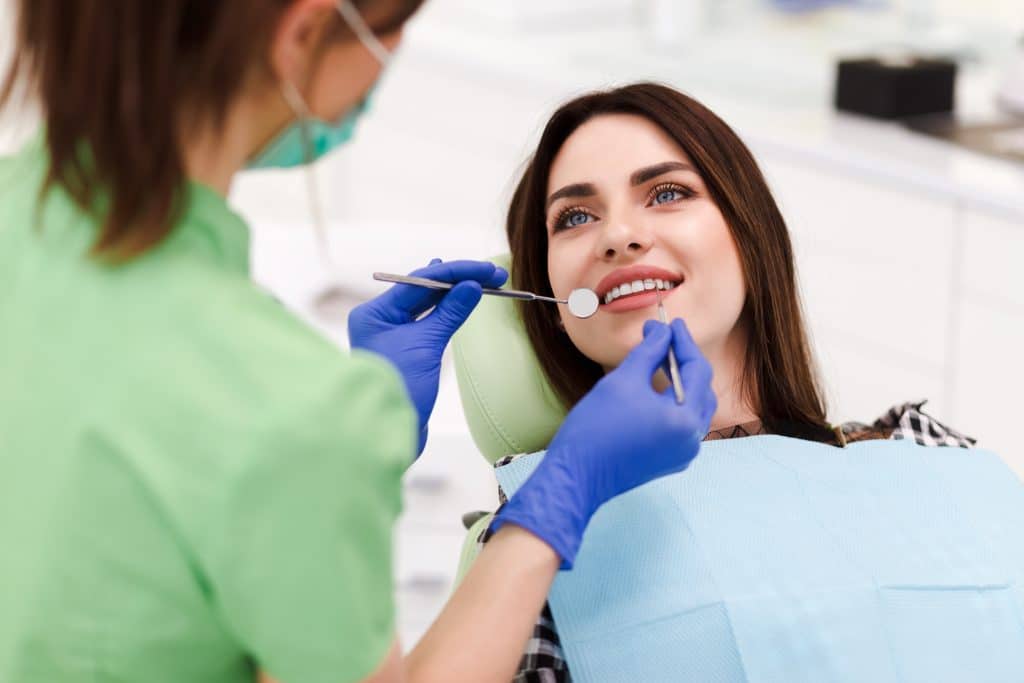 Sick of going to the dentist for endless checkups? Cummins Dental Group is committed to making dental visits pleasant and stress-free. We ensure all your needs are taken care of in one place with personalized treatment plans tailored just for you! With our comprehensive care approach, you get a full range of general, family, and cosmetic dentistry services from one friendly Silver Spring, Maryland, dental office.
You can trust that there is no better choice than Cummins Dental Group when it comes to taking care of your teeth. Our combination of modern technology and top-notch staff means you can get more time-saving appointments while enjoying the smiling faces that greet you every time.
The best part is no matter which service we provide – whether it's cosmetic dentistry, fillings, or cleanings in Silver Spring, Maryland – our main focus will always be on providing quality care with a smile (literally!).
Join us at Cummins Dental Group and experience comprehensive dental care today! Book an appointment online now!
Our Comprehensive General Dentistry Services
When caring for your smile, it can be hard to know where to go and even harder to find someone you trust. At Cummins Dental Group in Silver Spring, Maryland, we offer many general dentistry services that give you a confident and healthy smile.
Dental Cleanings: You should see Dr. Cummins every six months for a professional cleaning. The cleaning includes:
The removal of plaque and tartar.

Polishing your teeth with a high-powered brush.

Professional flossing.

Oral cancer screening, which includes head and neck exams.
The cleaning typically takes about 30 minutes and will leave you with a fresh and healthy smile.
Dental Exams and X-Rays: During your half-year visit, a dental exam of your teeth will be performed by a hygienist. The hygienist uses a small mirror to check for any oral problems, such as gum disease and decay, and looks for any damaged teeth. We will take X-rays at least once a year to check alignment and any impacted teeth. Following the cleaning and exam, we will perform an oral cancer screening. An oral cancer screening typically includes a visual inspection of the mouth, throat, and neck for any abnormalities, such as lumps, sores, or discolored patches.
Fluoride: Fluoride is a sticky paste painted across the front of your teeth after a cleaning. It has no color or taste and fights against bacteria and acid in the mouth. Fluoride works to prevent cavities over some time. Typically, it would be best if you did not eat or drink anything hot for the first 24 hours after fluoride is applied.
Fillings: A cavity is a small hole in your tooth that is created by acid and bacteria. A dental filling fills the cavity hole, restoring the tooth to its original functioning state. We can also use fillings to remove decay and repair broken or cracked teeth.
Tooth Extractions: We perform tooth extractions when there is no other way to save a tooth. We may pull a tooth out due to decay, wisdom teeth pain, a crack below the gum line, or permanent teeth coming in. No matter the reason, we assure you that a tooth extraction is done correctly to avoid future pain.
Sealants: Sealants help prevent cavities. Teeth are first cleaned and dried so that we can paint a sealant and then hardened to the top of the molar. The process is simple and painless and can have long-term benefits. It may feel weird at first, but your tooth should function normally.
Periodontal Disease Treatment: Periodontal disease is a severe gum disease that we need to treat to avoid tooth loss and further problems with the jaw and alveolar bone. Treatment includes professional cleaning of the gums and often prescribed medication to help lower the inflammation of the gums.
General Dentist in Silver Spring, MD
Schedule an appointment at Cummins Dental Group. We want to give you your best smile here in Silver Spring, Maryland. We look forward to seeing you soon!